The hair rehab advice you've been waiting for – here's 5 things anti-ageing haircare expert Belle Cannan wants you to know about
Healthista's Ksenia Lavrentieva took a trip down to Salon Sloane, for a hair transformation. Whilst there Ksenia quizzed anti-ageing hair expert, Belle Cannan, founder of Salon Sloane and ambassador for Hair Rituel by Sisley.
Belle is an expert in anti-ageing hair with a passion to help women to improve their hair's health and condition, addressing their hair concerns from a place of technical knowledge, years of salon experience and personal understanding.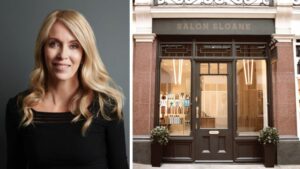 Here's what Belle told Ksenia about how to keep your hair young and healthy…
#1 Treatments for your hair are as important as skin treatments
'In my 20's, I wish I knew then what I know now, and how I wish the same products we have now would have been available back then,' says Belle.
'We want youthful, younger looking hair, but our hair ages just like skin, so we need to treat it in a similar way in order to keep it healthy and strong with lustre and vitality.
'I would always recommend using weekly hydrating treatments; it doesn't matter how fine or thick your hair is, treatments regenerate the hair and revitalise the scalp.
'Healthy hair starts with a healthy scalp, pay particular attention to what I call the triangle section which is from your parting down to your hair line at the front.
'This is the part of the hair that we blow-dry the most, colour the most, and is exposed to pollution and sun damage so no matter how thick our hair is, it is always weaker around this area.
treatments regenerate the hair and revitalise the scalp
'Like our skin, our scalp and hair get build up, so we want to remove all the impurities, such as oil and dry skin from our scalp so it can breathe again, and remove the product build up from the hair fibre.
'This means that all other treatments will properly absorb, revitalise and regenerate the hair and scalp. I find if you pay proper attention to detoxing your scalp, your hair stays cleaner for longer and therefore your blow-dry lasts longer.
'I recommend doing a pre shampoo purifying clay mask to lift the impurities followed by the recommended shampoo, then a nourishing and hydrating treatment. Your hair and scalp will have this really light, refreshed feeling'.
READ MORE: Hair guru reveals 5 rules for healthy, shiny hair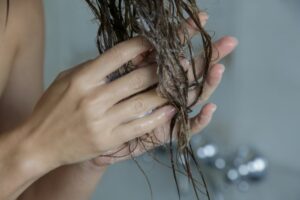 #2 Don't always use the same shampoo
Alternating the right shampoo for what your hair needs at the time is something that's so important but often overlooked,' admits Belle.
'Sometimes our hair is flat, so we should use a volumising shampoo and then sometimes we have an irritated scalp (not dandruff) so we should opt to use a soothing shampoo. We may have just had our hair coloured and want to maintain the colour so we can use a colour perfecting shampoo.
'You will honestly see the benefits of alternating shampoos – I always have a choice of three to use'.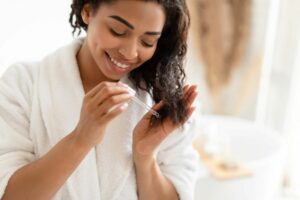 #3 Create a healthy hair weekly routine
Weekly routines, like our skin care routine.
'As we get older in our 50s, 60s and 70s our hair isn't the same and so like our anti-aging skincare routine, we also need a weekly hair routine,' explains Belle.
'We put a mask on our skin to add plump and make it glow; so do the same with your hair. We exfoliate our skin to remove dead skin, again do the same with your scalp and hair fibre.
'We layer up products and protect our skin, so always use a heat protection to protect the hair from heated appliances. I call this your 'hair guard' if you need to use styling products to support your roots or create texture on your hair.
like our anti-aging skincare routine, we also need a weekly hair routine
Always, always use a sun protection on your hair when in the sun, sea and swimming – it really does protect your hair and scalp.
'Oh and don't be afraid of oils – they can be lightweight and create a film of light around each stand to give a mirrored affect, leaving your hair shiny and glossy'.
READ MORE: Anti-Ageing April Recipe #8: Pomegranate Scalp and Hair Oil Mask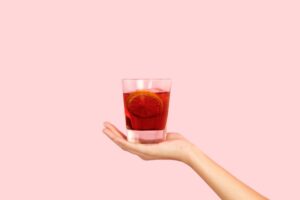 #4 Alcohol and a bad diet can affect hair health
'There is no direct link between, alcohol, diet and your hair, but overtime too much alcohol or unhealthy foods will cause deficiencies, which in turn affects your hair health,' explains Belle.
'Your hair will start to thin as your hair follicles becomes dehydrated, inflammation of the scalp can also be an issue causing the hair to become dry and brittle and eventually break, therefore its hard for your body to function and rebuild the nutrition needed for healthy hair.
too much alcohol or unhealthy foods will cause deficiencies
'The bottom line is bad nutrition can affect your hair, and factors including alcohol can make it worse. My understanding is more than 7 units a week for women will start to affect your health, I believe its double for men.
'Try to avoid the cocktails mixed with sugary drinks; the less sugar you take in with alcohol the better your health from head to toe. Instead opt for tequila (try to avoid the salt) or gin with soda, as these have less sugar'.
READ MORE: Why is my hair falling out? 5 causes of hair loss and exactly what to do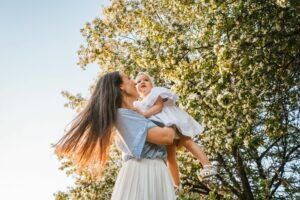 #5 Hair loss can occur after giving birth
'You normally loose 100 hairs a day, but this stops when you are pregnant, not that you will notice it so much. What you will notice is your thick and shiny hair, thanks to your high oestrogen levels,' reveals Belle.
'Unfortunately however, most of us lose our hair post-pregnancy. But it isn't permanent, hair shedding usually peaks between six and nine months post-partum, and come your baby's fist birthday, you should start to notice volume return to your hair.
'I recommend weekly hydrating treatments with a scalp massage to stimulate the blood flow to the scalp (there are also wet brushes that are designed to encourage flow); this will give your hair a radiant glow.
Hair loss tends to be more noticeable on longer hair and finer hair
'Also ensure you have a good haircut so the hair looks fuller and use a regenerating hair care mask to keep the new hair hydrated. Hair loss tends to be more noticeable on longer hair and finer hair.
'Once you have stopped breast-feeding I would recommend Hair Rituel by Sisley's Revitalising Fortifying Serum for the Scalp. This is a light serum that absorbs into the scalp and anchors the hair follicle into the bulb, in four to six weeks your hair will be denser and stronger.
'Taking vitamins can also help in getting the right nutrients to help you hair grow. Also try a wide tooth comb to avoid breakage, comb conditioner through your hair to encourage a shiny gloss, eat a healthy diet with plenty of fruit and vegetables and invest in a scalp serum to promote denser stronger hair.
'There are also revitalising hair serums that will absorb into the scalp and anchor the hair bulb into the scalp. In fact, Revitalising Fortifying Serum by Sisley Hair Rituel is the secret to younger looking hair.
'This a delicate light weight serum that absorbs into the scalp; its not greasy. You will find your hair becomes stronger and when you brush your hair there is less in your brush. It also slows the appearance of grey hair. It's magic in a bottle!'
Ksenia's hair detox…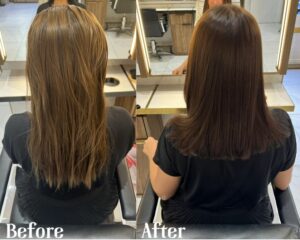 'For Ksenia, I firstly did a gentle detox of the hair using Hair Rituel by Sisley Gentle Purifying Shampoo to remove any impurities from the scalp and hair fibre,' explains Belle.
'Secondly, I applied Wella Colour Fresh, a gentle semi-permanent colour (no ammonia or peroxide) enhancer, enriched with a conditioning vitamin complex for incredible shine. This is a quick and easy application that can last up to ten shampoos and provides up to 30 per cent grey hair coverage.
'I then used the Hair Rituel Regenerating Hair Mask from the roots to ends to revitalise the scalp and regenerate the hair fibre.
'Before styling, I applied Hair Rituel by Sisley Revitalizing Hair Serum, to strengthen the hair. This is applied to the scalp, especially around the hair line where the hair is weaker.
'I layered up the styling products, using Hair Rituel La Crème 230 to protect the hair from heated appliances, followed the Volumising spray for root lift. The results speak for themselves don't you think?'
Like this article? Sign up to our newsletter to get more articles like this delivered straight to your inbox.