Incontinence making you miserable? Decreased intimate satisfaction after childbirth? Emsella is the breakthrough treatment that will give you a pelvic floor muscle make-over
Body ageing, childbirth and menopause can all lead to incontinence and a lack of pelvic muscle tightness and strength.
In fact, one in three women in the UK suffer from urinary incontinence (involuntary leakage of urine). This is particularly common with postnatal and menopausal women.
Urinary incontinence can lead to social embarrassment and the avoidance of intimate relationships.
one in three women in the UK suffer from urinary incontinence
The pelvic floor acts as a hammock across your pelvis harnessing and supporting your lower organs. Therefore it is essential to keep it in the best shape possible, however many of us neglect this important muscle.
When you have a child the pelvic floor gets stressed and with menopause and natural ageing the pelvic floor becomes weak and muscle degradation occurs.
However this problem can be solved – so don't ignore and tolerate it.
How Emsella works?
Emsella is a deep pelvic floor muscle, penetrative stimulatory workout, using HIFEM electromagnetic – high frequency tech, that revolutionises intimate health for both men and women, by inducing thousands of  supramaximal, intense contractions and re-educating the pelvic floor.
Emsella is a fantastic option for women of any age; who desire a lasting solution to their urinary incontinence issues, improvement with their intimate sensation, postnatal mothers and active women suffering from incontinence.
Emsella has also been a popular treatment for women who experience decreased intimate satisfaction
Indeed, 95 per cent of women who have had the Emsella treatment have been satisfied with their results. And what's more, 65 per cent of patients were completely dry after doing any extreme exercises after receiving the Emsella treatment.
Emsella has also been a popular treatment for women who experience decreased intimate satisfaction. This new treatment also helps to increase intimate sensation, with 85 per cent of women saying it improved their overall intimate satisfaction.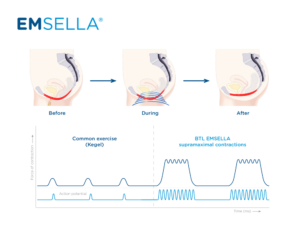 What happens during the treatment?
This was my main reason for wanting to try Emsella – looking to increase my sexual pleasure sensation. I have been put off in the past as many treatments are invasive and come with a risk of burns or infection and only treating the inner tissue superficially.
But Emsella promises to strengthen the pelvic floor muscles on the deepest level, so this seemed the perfect treatment that is most natural yet tech savvy.
Just sit down, relax and let Emsella do all the work for you. No really, it's that simple!
Before the procedure starts you must take off all your jewellery and you can't be on your phone either – so think of it as mediation time.
I advise you wear loose fitting clothing so the electromagnets can penetrate through easily.
You may feel results after just the first session
The machine has two settings to choose from depending on which you require – incontinence and intimate wellness.
The sensation starts off very slight with tingling vibrations and can be increased all the way up to 100 which gives full on contractions, but of course totally painless, comfortable and something you get used to very quickly.
You can go at your own pace, the practitioner will gently elevate the intensity to the level you're happy with.
You have to wiggle around a little so you find that sweet spot and then just sit up right and let the 28 minute magic begin. You may feel results after just the first session and the results will continue to improve over the coming few weeks.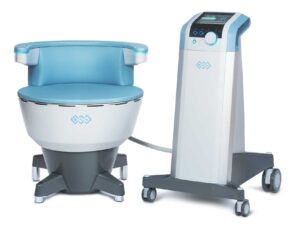 As we know the more we work a muscle the stronger the muscle gets, but as our human limitations have it, when we do it ourselves we only engage a small percentage of the muscle fibre.
Whereas using the aid of the magnetic field, it decolonizes the motor neurone which fires the spark within the muscle at a much higher rate, so the software does the ultimate job for you rather than your brain with its limitations.
Using the magnetic field it exercises the muscle to a point where the human being can't. Thus making your pelvic floor healthy and strong again via extreme exercise using technology. A typical treatment involves six, 28 minute sessions, twice a week.
typical treatment involves six, 28 minute sessions, twice a week
In terms of results, the clinical studies show that patients are able to maintain the results six months after their treatment series, then it's just maintenance (top-ups) therefore after if and when you need it and of course keeping a healthy lifestyle is key to maintain long term results.
I myself, noticed a definite difference in going to the toilet whereby I have been able to hold on longer which has made being stuck in a queue a breeze!
Plus my main goal of sexual satisfaction has definitely seen an improvement in intimate sensitivity.
Benefits of Emsella:
No downtime
Painless
Non invasive
Remain fully clothed
Walk-in-walk-out
Restores bladder control
Eliminates urine incontinence
Help recovery after childbirth
Improves intimate wellness
Medically proven
FDA cleared
Medical CE-marked
Prices start from £300 per session or a course of 6 for £2000
Dr Medispa Award Winning Medical Aesthetics Clinics 'provide medically proven treatments in world class surroundings. All treatments are bespoke to each patient and care is taken to ensure maximal benefit is achieved'.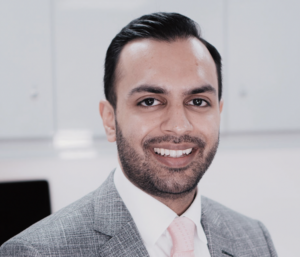 Dr. Munir Somji is the Director and Visionary behind DrMediSpa. He is recognised amongst patients and peers as an Industry expert in Aesthetic Medicine worldwide.
He currently oversees all medical training at DrMediSpa to ensure it meets UK regulations. Dr. Somji has a wealth of experience in performing advanced surgical and non-surgical techniques as well dealing with aesthetic complications.
Dr Somji has built a reputation as a trainer in medical aesthetics, and has been recognised as a global Key Opinion Leader for worldwide brands Galderma (Azzalure and Restylane), InMode (FaceTite and BodyTite) and Alma Lasers. He continues to support innovation and forward-thinking in the industry.
More Healthista Content:
4 signs your low mood shouldn't be ignored plus what may help
Look after yourself: 6 self-care essentials for a happier, healthier you
3 best facials in London for glowing skin – tried and tested
Erectile dysfunction – your questions answered
Want bigger, more defined lips without the filler? Why not try a lip tattoo
Like this article? Sign up to our newsletter to get more articles like this delivered straight to your inbox.